This guy lost his arm movement and decided to gather scrap metal to create a mind-controlled robotic arm. I Wayan Sumardana, a 31-year-old welder in a small village in Bali, Indonesia, said he woke up one morning to find he had lost all feeling in his left arm. His doctor couldn't explain what was happening. He described his state of limbo after the event. "For two months I couldn't work at all. I was stressed out. I had no money left. Then I got the idea to create this machine."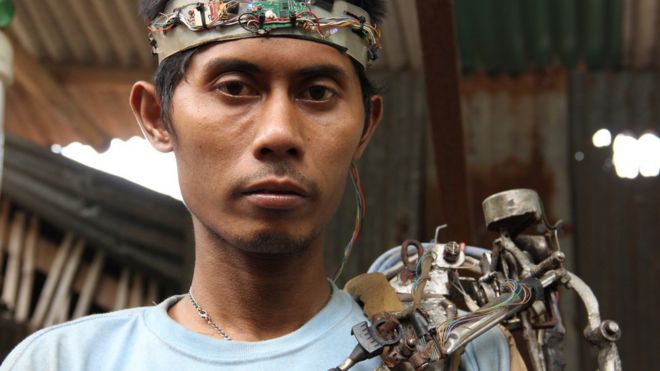 He is referring to the "bionic arm" – a robotic contraption that looks like it has been built out of scrap metal and inspired by cyborg movies. Mr Sumardana, who is also known as Sutawan, has never been to university but he went to a technical secondary school and says he has been obsessed with electrical engineering ever since he was a child. He says he made the "bionic arm" from scrap metals, a lithium battery, gear wheels, dynamo cables and other electronic components. His workshop, where he lives with his wife and three sons, is full of junk, scrap metal in every corner, piles of plastic bottles, a worn-out sofa, and chickens running around.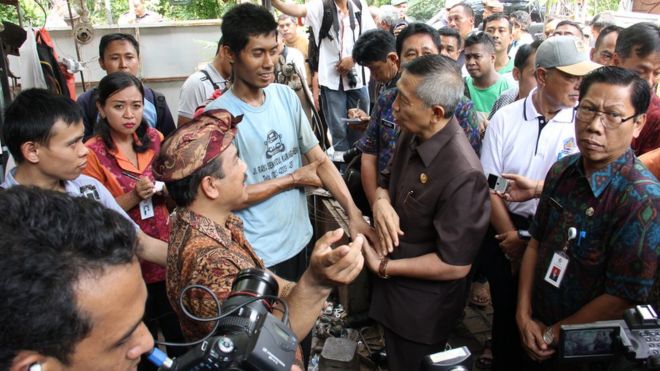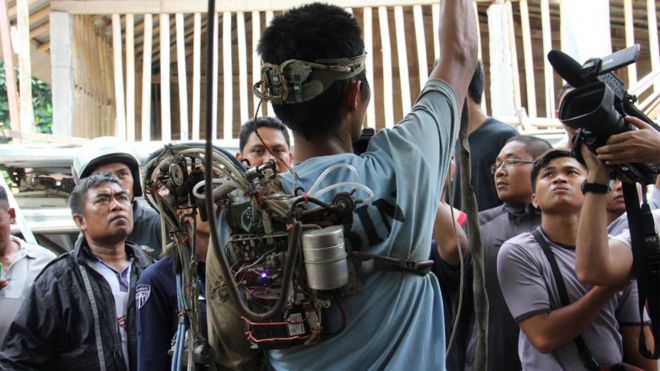 'Signal receiver headband'
Mr Sumardana, however, says the mechanical arm has allowed him to work. In front of a crowd he demonstrated how he can fix machines wearing it. The "bionic hand" appeared to be moving and he certainly appeared able to do his daily work with this contraption. Observing his movements closely, it is clear that while using the arm he was unable to clench his fist – but he could move his elbow and shoulder joints. Without the "robotic sleeve" his arm hangs limply by his side and he has only partial movement in three of his fingers. There were few doubters in this crowd and he gave anyone curious – including me – a chance to try his "signal receiver headband". "Try to concentrate, close your eyes and you will see four square lights. Try to turn on all the lights," Mr Sumardana said, as I put the device around my head. I tried my hardest but I didn't see anything. Others who tried had the same experience. Mr Sumardana says it is hard to make it move and he can only use it for four hours at a time. After that it makes him feel sick and dizzy.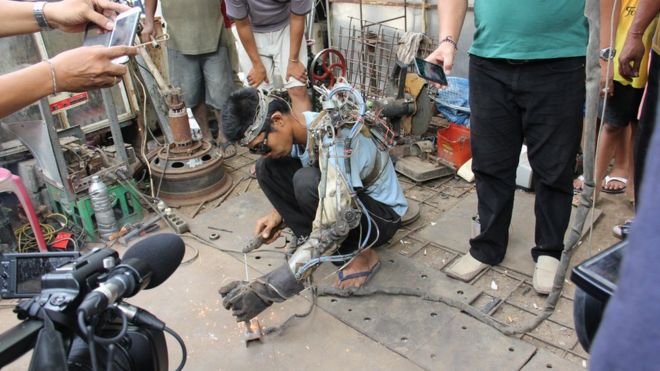 The brain-signals narrative is also something experts would certainly cast doubt upon and when his story takes a mystical turn it becomes clear that Mr Sumardana is not simply a man devoted to the pursuit of science and robotics.
How incredible is this guy?!
source: bbc.com