Game of Thrones has broken the record for the highest number of Emmy Awards won by any fictional series.
The HBO fantasy drama triumphed in three categories at Sunday's ceremony, including outstanding drama series. The show's total number of awards now stands at 38, which means it has beaten Frasier's previous record of 37.
This year's British winners included Dame Maggie Smith, who won outstanding supporting actress in a drama series for her role in Downton Abbey.
It is the third time Dame Maggie has won an Emmy for her portrayal of Violet Crawley, but she has never attended the ceremony in person.
Host Jimmy Kimmel joked: "We're not mailing this to her. Maggie, if you want this, it will be in the lost and found."
BBC One's Sherlock was named best made for TV movie for its special episode The Abominable Bride.
Accepting the award, Sherlock creator Steven Moffatt made reference to the The Great British Bake off, currently shown on BBC One but bought by Channel 4 last week. He said: "Thank you to the BBC who we love above all bakery. British people will get that."
Susanne Bier, the Danish director of the BBC's spy thriller The Night Manager, won for best directing in a limited series.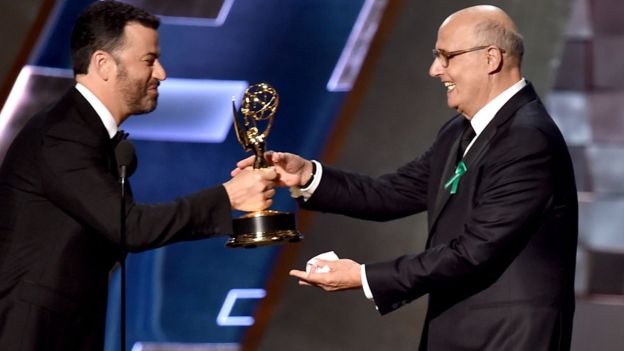 Kimmel made several references to diversity during the ceremony in light of the"Oscars So White" controversy earlier this year.
"Here in Hollywood the only thing we value more than diversity is congratulating ourselves on how much we value diversity," he said in his opening monologue.
"The Emmys are so diverse this year the Oscars are now telling people we're one of their closest friends."
source: bbc.com